Week 3 of The Quick Start Challenge is all about building your audience with an Autoresponder
So, today I started The Quick Start Challenge Week 3.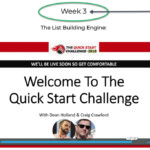 Week 3 is all about building the system that you would use to build your audience.
My audience is going to be one that I had before.
It will be people who what a better life and lifestyle that an online business can give them.
I know people love the thought of this but not all realize the work involved to obtain it and usually fall by the wayside.
I am looking for the 10% who WANT what the lifestyle an online business can deliver.
1. More quality time with your Family
2. STOP worrying about bills with more cash to help with day to day runnings.
3. A simple blueprint to follow even if you are brand new to Internet Marketing.
4. Less time wasted traveling to work.
5. Less life wasted working for someone else.
The tools needed for the job were a landing page builder to get my audiences email address so I can communicate with them regularly.
I also need an autoresponder to send emails out daily.
I have a lot of landing page builders in my arsenal such as
1. Thrive Architect
2. Convertri
3. Instabuilder 2
4. Click Funnels
The first thing to say is I have way to many of these tools so I have looked through them and chosen the easiest and fasted to use.
I have decided on Thrive Architect for my email capture page which is here for you to visit Step1.
I worked on Convertri for a couple of hours but couldn't get the design of the landing page right and eventually gave up.
Thrive Archiect had some great simple to use templates and I set up my Step1 and Step2 pages in under an hour.
The nest thing was to choose an Autoresponder to use.
I have quite a few of these such as;
Mailit
MailChimp
and a few others that don't really need to be mentioned here as the first 2 Aweber and Getresponse are probably the best 2 for you to get started with.